HEME
In 2015 research, conducted jointly between the UK children's charity Coram and the University of Bristol found great variation in the quality of life story books across England and Wales with many being of poor quality. The same research found that children were largely poorly prepared to explore their histories, adoption professionals and agencies did not seem to prioritise life story books, and that adopters felt poorly prepared in how to use and update life story books with their children.
This workshop will enable participants to explore best practice in the facilitation of ongoing life story work which will enable children's and young people's understanding of their past, acceptance of their present and hopefulness about the future.
The workshop will focus on creative direct work with children and will provide opportunity for practitioners to consider practical approaches to working and engaging with children and young people and related factors which may impact on the practitioner throughout this shared journey. It will also provide opportunity for those preparing life (story) books to consider a supportive model and framework for facilitating good quality books. The workshop will enable practitioners to consider their role in assisting adopters in the continued building of children's understanding, resilience and moving forward with hope into independence. By the end of this workshop practitioners should be better prepared for the first stage of life story work, that of engagement, attunement and competence in working with children and young people.
On open courses we can accommodate a maximum of four delegates from one organisation only. For a larger group booking, please see the information on commissioned training.
RECOMMENDED READING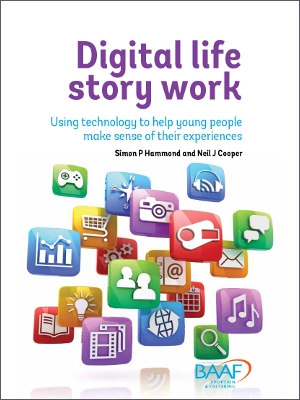 This innovative guide brings the benefits of life story work – traditionally undertaken with younger children – to young people and adolescents. Digital life story work charts new territory through the use of computers, free software, smartphones and camcorders in a range of contemporary and exciting ways. While the products created by this technology may be videos or photo collages, rather than traditional life story books, the therapeutic process of building a relationship with a supportive adult while reflecting on their lives will be immensely important for the young person's self-esteem and identity.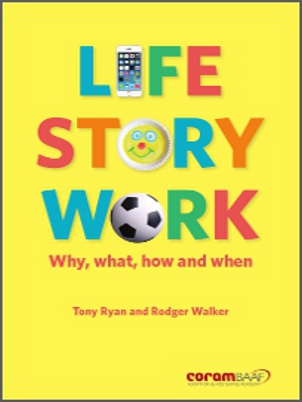 Children separated from their birth families are often denied the opportunity to know about their past and to clarify past events in terms of the present. They may have changed families, social workers, homes and neighbourhoods. Their past may be lost, much of it even forgotten.Losing track of the past can make it difficult for children to develop emotionally and socially. Life story work is an attempt to give back some of this past. This guide provides a rich and creative treasure trove of techniques and exercises for adults working with children in different settings. Life story work lays the foundations of approaching life story work with children and introduces the whys, whats, hows and whens of doing it. Case studies are used throughout to bring the material to life.
WHO SHOULD ATTEND?
Children's social workers, fostering and adoption social workers, social work assistants, family resource workers, family centre and residential workers, leaving care workers.
This workshop would be particularly beneficial to workers new to life work and those wanting to refresh their skills, knowledge and approaches to direct work and the creation of life books within a creative environment.
20 places available.
LEARNING OUTCOMES
By the end of the workshop participants will have:
Explored opportunities to actively integrate all aspects of a child/young person into his/her life story including race, gender, age, culture, disability and religion
Considered the impact of child development, attachment and trauma when undertaking life story work
Explored the child's internalisation of adult messages
Enhanced skills in communicating with children including the use of a variety of tools including genograms, stories, CD-ROMs and games
Considered practical approaches to creating life story books through the Joy Rees Model and others
Examined examples of life story books